The Aviation Museum of Santa Paula
Mission Statement
To educate the public of all ages in aviation and its history, both in general and as it relates to Santa Paula and to inspire, motivate and challenge the younger generation to carry on the dream of our aviation pioneers.
"The phoenix hope, can wing her way through the desert skies, and still defying fortune's spite; revive from ashes and rise." This quote from famous Spanish novelist Miguel de Cervantes (who wrote Don Quixote), could well apply to the humble beginnings of the Santa Paula airport.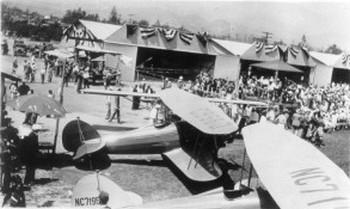 1930 Santa Paula Airport DedicationThe St Francis dam disaster in 1928 is second only to the San Francisco earthquake and fire of 1908. It was this disaster, however, that birthed the Santa Paula airport. After the flood, local ranchers Ralph Dickenson and Dan Emmet decided some of the devastated area adjacent to the river would make a good location for an airport. Both were pilots, and had airstrips on their ranches, and both realized the benefit an airport would bring to the town.
Thanks to the locals
Ralph persuaded 19 local ranchers and businessmen to invest $1,000 each, and they began building Santa Paula Airport with their own hands. It opened in August 1930 with a dedication celebration that included air races, aerobatics and parachuting, a visit from the Goodyear Blimp, and featuring many famous aviators of the time such as Art Goebel, Roscoe Turner, Pancho Barnes, Jimmy Doolittle and Hawley Bowles.
In 1938, with a population of 7,200, Santa Paula had more airplanes per capita than any other community in the nation. Today, despite it's size, the airport is home to over 300 general aviation aircraft, and nearly 100,000 arrivals and departures per year.